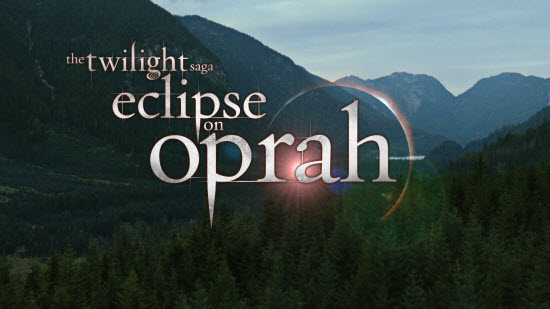 Today, Oprah filmed an all out special Eclipse episode with Robert Pattinson, Kristen Stewart, Taylor Lautner, and Dakota Fanning as guests! But what must have been one of the biggest highlights for her live audience was the fact that they got to watch the full Eclipse movie! Now, it wasn't the final cut that we'll all see in theaters, but very similar.
His Golden Eyes
has found several mini-reviews from fans that were in the audience on twitter. Here's a few of them:
@JustSoJazzyDiva: OMFG @Twilight Saga #Eclipse was so freaking good!!! Blew Twilight & New Moon out the water!!! It was AMAZING!! YES!!! The leg hitch was in the movie!!! Suuuch a hott scene!!!

@JustSoJazzyDiva there was a lot of romance btwn B&E. Theyve left nothing out!!! Team Edward all day!!! I donít want to give it away. But if youíve read the books they didnít miss a beat!!! [Alice and Jasper] have waaay more screen time!! U even get to see them interact more w/ each other!

Vivian_Ortiz: Eclipse was amazing! Canít wait to see the final version! Best Movie Yet.

@Courtneex3 OH MY GOD!!!! Eclipse was absolutely AMAZING. Better then both New Moon & Twilight! Holyy crappp =O

@TrendingJB Just saw Eclipse!! AMAZING movie. Thatís ALL Iím saying.

@TrendingJB There were a lot of stuff that wasnít finished, and one time the wolves were animated. It was hilarious.
Obviously the full movie won't be airing on TV, but you will be able to watch this awesome episode of Oprah on May 13th, so set you're DVRs!