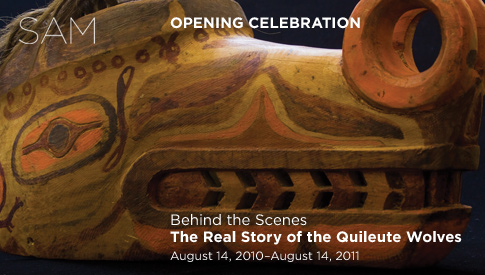 During this next year, the
Seattle Art Museum
will have a new display featuring the Quileute Nation! Here is the official press release:
"Opening Celebration Event, August 14, 2010, 1-3 pm

Join us for a performance by the Quileute Nation Drum Circle, celebrating the opening of the exhibition Behind the Scenes: The Real Story of the Quileute Wolves. Organized in conjunction with the Quileute Nation, this exhibition brings together rare, never-before exhibited art works and creates a public forum for the Quileute people to introduce their culture beyond what is depicted in the Twilight books and films. The wolf plays a major role in the cultural beliefs of the Quileute Native Peoples of coastal Washington. According to oral traditions, the first Quileute people were changed from a pair of wolves into human form by the Transformer, Kwati. This creation legend is central to the Quileute world view, and wolf imagery can be viewed throughout the exhibition."
Click here
for more details.
Sincerely, Alice
8/5
---
---
---